Dr. Frye Earns the Practicing Excellence - Ambulatory Patient Experience Certification
The world of healthcare continues to evolve, but one constant is the importance of the patient experience. Dr. Frye recently completed the Practicing Excellence: Ambulatory Patient Experience Certification. Customized for physicians, this course covers ways that physicians can optimize visits for patients and families - improving communication, increasing efficiency, building rapport. Dr. Frye looks forward to seeing you in the office soon & making your experience the best it can be.
---
Guest Speaker at MSU - Sparrow Medical Center Pediatric Grand Rounds

Dr. Frye was honored to be asked to speak at MSU-Sparrow Medical Center Pediatric Grand Rounds on January 26, 2023. The topic was "Let's Be Clear on Sports Clearance: A Refresher & Update in the COVID Era". Topics covered included updates on the Preparticipation Exam (PPE-5), post-vaccine and post-infection clearance and guidance for families, customizing return to play programs, attention to the female athlete and current guidelines for transgender high school athletes in Michigan. You can watch the lecture by clicking HERE.
---
Helen DeVos Children's Hospital Orthopedics - Now 2 locations to serve you!
We are excited to announce that Dr. Frye is back in Grand Blanc! In addition to the Lansing clinic, Dr. Frye is now seeing new & established patients at 8203 S. Saginaw Road. The office space is located within the Mid-Michigan Sleep Center building on Saginaw, between McCandlish & Holly Roads. We are in Grand Blanc every Thursday from 8 am until 3 pm. Dr. Frye is very excited to be back in Genesee county - bringing pediatric orthopedic care closer to home for families on the east side of the state. Call us for an appointment.
---
How about a 5-Peat?

Metro Parent Selects Dr. Frye for the 2019 "Mom Approved Best Doc List" - Making this the 5th Year in a Row!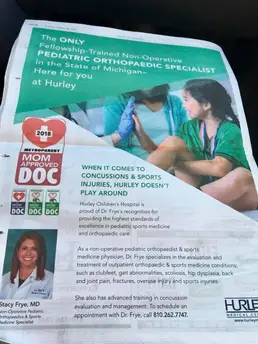 Dr. Frye responded by saying: "I am so grateful to have the opportunity to do what I do for a living. Thank you to the parents & families I serve for nominating me as a Mom Approved Doc. Metro Parent Magazine has named me to their list for the past 5 years (2015-2019) and it is a true honor. I never take it for granted. I am thankful for families' trust and confidence as I help care for their children. We will continue to work hard, always putting our patients first and treating them as though they are are own."
---
Dr. Frye Named to 2016 & 2015 "Best Doctors in Michigan" Lists by MetroParent Magazine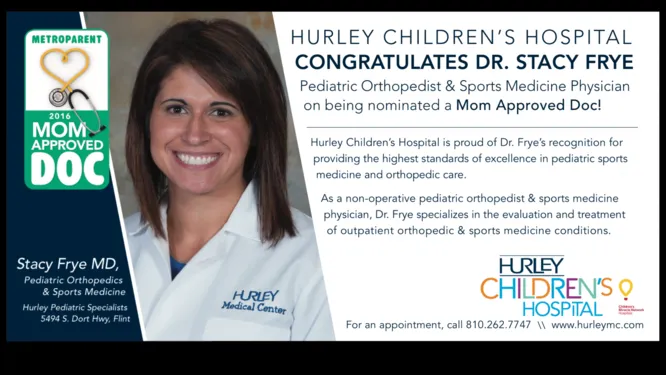 Dr. F. is proud to announce that she has been selected as a Mom-Approved Best Doc in Pediatric Sports Medicine & Orthopedics for the 2nd year in a row.

Each year, Metro Parent asks parents to nominate the best doctors in Michigan. Nominations are collected and this once-a-year honor highlights some of the best pediatricians & pediatric specialists in the area. Dr. F. would like to sincerely thank the parents who submitted such incredibly kind nominations. She is truly honored and wholeheartedly appreciative.
If you're interested, you can read the full nominations by clicking here - just scroll down to "Pediatric Sports Medicine".
---
Dr. Frye Provides Expert Commentary on Need for Caution Regarding Use of Pain Medications by Young Athletes
Dr. Frye is honored to team up with Contemporary Pediatrics again and provide commentary on use of opioid medications and pain-controlling medications by young student-athletes. The opioid epidemic is a national issue which has recently garnered media attention.
Take a look at the article by clicking here.
---
Dr. Frye to Speak at Sparrow Hospital Grand Rounds -
Dr. Frye is honored to return to Lansing this fall to as a guest speaker at Sparrow Hospital for Pediatric Grand Rounds on October 6, 2016. She will be discussing Overuse Injuries in Young Athletes. With the increasing number of children and teens involved in athletics and activities, injuries from repetitive wear and tear are on the rise. Dr. Frye will discuss trends that are being seen in the sports medicine field, risk factors for injury, prevention strategies and highlight specific diagnoses, including treatment approaches.
---
Contemporary Pediatrics Selects Dr. Frye as Contributing Author on Pediatric Orthopedics and Sports Medicine
Dr. Frye is pleased to announce her partnership with Contemporary Pediatrics, a respected peer-reviewed journal on pediatric medicine. She was asked to write two articles for their August 2015 Back to School issue which is out now: "Juiced: What Kids do to Compete" - a discussion of the use of performance-enhancing substances among young athletes and sports nutrition and "Care of the Young Athlete" - an update on the pre-participation physical examination (commonly known as the yearly sports physical) and use of baseline concussion testing in student-athletes. "Juiced" was chosen as the cover story for the journal. Dr. Frye is proud to work with Contemporary Pediatrics and increase awareness of orthopedic and sports-related issues among primary care providers.
Take a look at the articles by clicking here.
---
Dr. Frye Attends American Academy of Pediatrics National Conference & Advocates for Our Children
Dr. Frye attended the 2015 annual meeting of the American Academy of Pediatrics. She believes in continuing medical education & staying up-to-date on the latest advances in pediatric medicine with focus on care of our young student-athletes and orthopedic conditions. New information on use of performance enhancing substances, care of complicated concussion, assessment & treatment of headache, use of aerobic exercise as an early treatment for concussion, analysis of limp & gait changes, and assessment of pediatric deformities including torticollis and plagiocephaly were just some of the topics on which she gained insight & new knowledge.

---
Michigan State University College of Osteopathic Medicine Invites Dr. Frye to Teach Residents Statewide on Pediatric Orthopedic Care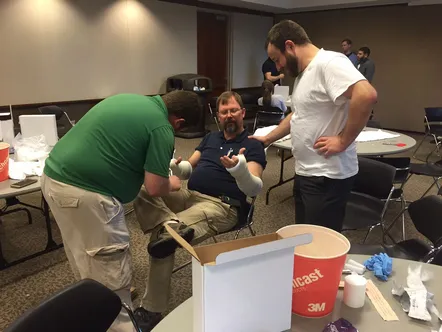 Dr. Frye was honored to work with the MSU-COM Statewide Campus System for their Family Medicine Educational Day focusing on Upper Extremity Orthopedics. This event is a gathering of all the family medicine residents in the state of Michigan training through MSU-COM programs. Dr. Frye gave a lecture on Sports Injuries of the Upper Extremities in Pediatric Athletes. She then led 3 workshops on casting upper extremity fractures. It was great to be back in Lansing for the day! This was a repeat invitation to be on faculty for the Statewide Campus lectures series.
---
Dr. Frye Recognized by Grand Blanc Chamber of Commerce for Excellence & Commitment to Community
The Grand Blanc Chamber of Commerce recognizes members of the community who exemplify excellence in their respective fields at their Annual Chairman's Award Dinner. We are honored to announce that Dr. Frye was nominated for the 2015 Health Professional Hero Award. The Chamber describes nominees as "individuals that volunteer time and experience to give care to those in need. They mentor others aspiring to work in the health care field. They exemplify excellence in the health care field."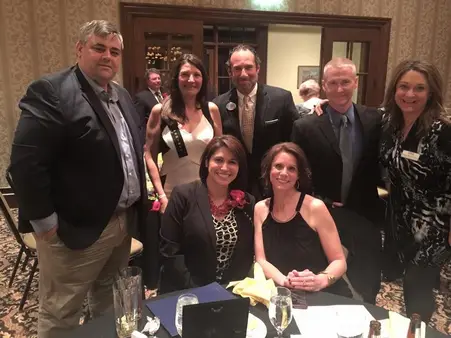 Congratulations to Dr. Frye on the nomination. After only a short time in the Grand Blanc community, she has already been recognized for her efforts to promote healthy lifestyles, improve injury prevention and increase education regarding pediatric sports medicine & orthopedics. More information on the Chairman's Awards can be found here.
---
Dr. Frye Discusses Pediatric Concussion at Michigan Association of Osteopathic Family Physicians Summer Conference
Dr. Frye was honored to speak at the MAOFP Summer Conference at Grand Traverse Resort last week. As you can see in the picture, it was a full house Friday morning! She discussed the topic of pediatric concussion - informing attendees about diagnosis, evaluation and management of concussion as well as recent research findings. It was a pleasure to team up with the MAOFP and promote awareness and education regarding concussion and sports-related injury.
---
Dr. Frye to Speak at Hurley Medical Center 2015 Pediatric Update Conference
Dr. Frye has been asked to speak on Pediatric Orthopedic Variants at the 2015 Pediatric Update Conference on May 13, 2015. The event is being held at the MSU Conference Center (located in the old Flint Journal building across from the Flint Farmer's Market) and will feature discussions on pediatric neurology, orthopedics, dentistry, sleep medicine, psychiatry and dermatology. The objectives of the Dr. Frye's orthopedic lecture are to identify pediatric musculoskeletal exam findings that are unique to children, describe their natural course and discuss points of reassurance, indications for observation and histories/findings that warrant further workup. If you would like to attend the conference or would like further information, please click here
---
Pediatric Residents at Michigan State University/Hurley Medical Center Get a Tour of Musculoskeletal Medicine Courtesy of Dr. Frye
Medical education is something Dr. Frye is passionate about. She was recently asked to give a lecture series on pediatric orthopedics & sports medicine to the pediatric residents at Hurley. The talks covered essential conditions to know for the upper and lower extremities. Concepts were emphasized with a hands-on physical exam session. Dr. Frye walked the residents through a comprehensive knee examination, highlighting classic physical exam findings and diagnoses not to miss!
---
Doctor, Athlete... and Now Coach & Sponsor for Little League!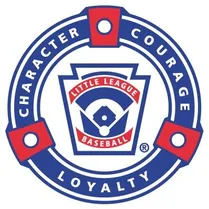 Dr. Frye loves taking care of local athletes off the field, however she is taking on a new role this spring - now she'll be on the field! It was only a matter of time before she returned to those summers at the ballpark - growing up playing travel softball since she was 7! Dr. F. was asked to be a coach in Fenton Little League and has gladly accepted! She is also sponsoring 2 teams in Grand Blanc Little League, in support of the young athletes living in our clinic community!
---
Dr. Frye Joining Forces with Local Organizations as Team Medical Provider
Like many local children, Dr. Frye grew up playing sports and is thankful for the medical support she had as she recovered from various injuries on the field. No one hopes for any injury, but if one does occur, having a knowledgable physician who not only specializes in sports medicine but in pediatric care is a powerful asset. Dr. Frye is pleased to have teamed up with Grand Blanc Gymnastics as a team physician and La Forza Soccer as a medical provider. Athletes and their families can trust that they will receive state-of-the-art care in an efficient manner, close to home. Our goal is to have young athletes back to activity as quickly - but also as safely - as possible. Dr. Frye is committed to a thorough evaluation and then detailed return-to-play plan.
---