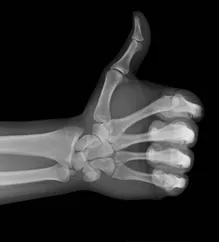 "It was by chance that we came upon Dr. Frye, non-operative pediatric orthopedist and sports medicine physician, and we hit the jackpot in receiving the best orthopedic and musculoskeletal care for our high school son. Every once in a while you come across a doctor who truly cares about their patients and would treat them as if they were treating their own children. The time spent with her at my son's side was never hurried but thorough. Dr. Frye explains medical conditions meticulously and she listens intently to the issues at hand. Most doctors feel as if they have a business to run and don't want to invest the time in getting to know their patients. This is not the case with Dr. Frye; she is truly a concerned doctor and willingly goes out of her way to ensure the proper care and treatment for your child. She is highly knowledgeable with sports-related injuries, which made it a lot easier for my son to relate to her. She has treated our high school son for a growth plate injury and broken hand and has completed routine physicals for both our boys. Your child will be in the best care with Dr. Frye. She is truly the best at what she does and we are very appreciative for the care she has provided our children!" – C.M.
"Dr. Frye has taken excellent care of our son. She uses humor and talks to kids directly, making both the patient and family feel comfortable with the mode and plan of treatment, and has accommodating hours for working families." – K.S.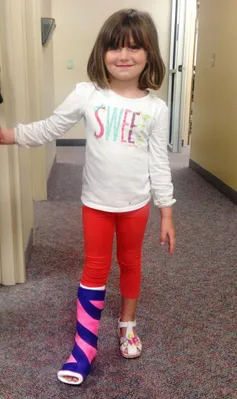 "Dr. Stacy Frye is a phenomenal Sports Medicine and Pediatric Orthopaedic Specialist. From the moment we met Dr. Frye and her amazing staff, I felt at ease. I trust her completely after seeing how much she cared for our son as she diagnosed his break and began the treatment plan for him. She took the time to answer every question and concern we had and every visit was consistent. Dr. Frye went above and beyond to keep our son comfortable during the healing process and it is very evident that she really cares about her patients. The atmosphere at the office is so friendly and I recommend Dr. Stacy Frye and her staff to anyone who wants great, professional and personal care for their child." – L.M.
"Dr. Frye is a very thorough and knowledgeable doctor who is always looking out for the best care and treatment of my child. She communicates in a fashion that the athlete and parent understands exactly what is needed and expected and what is next in the treatment process. I recommend any parent whose child suffers an athletic/orthopedic injury to utilize Dr. Frye's services. She is absolutely amazing." – C.C.
"Dr. Frye is an Orthopedic Pediatrician who specializes in young athletes. This is not a common specialty thus is very much needed for young athletes who sustain an injury, but don't necessarily need to see a surgeon. Stacy is a very genuine, compassionate, thorough, knowledgeable, professional and down-to-earth physician. She is an amazing resource to have for our young athletes. Additionally, Stacy's knowledge and expertise with concussions makes her the optimal physician for any athletic condition. She is the best!" - G.C.
"Dr. Frye is a very professional, kind and compassionate individual. She takes time with her patients and thoroughly explains your diagnosis and treatment." – B.B.
"Dr. Stacy Frye is an incredible physician. She works extremely well with children and was kind and considerate. She took time with both myself and my child and was very responsive to our questions." - C.R.
"Dr. Frye & her staff are wonderful to work with. I would definitely recommend her! Thank you!" - J.B.
"I would give her the highest marks possible. Dr. Frye is knowledgeable, considerate and understanding in the treatment of concussions. We were lucky to have her as a provider." - H.H.
"Dr. Stacy Frye is a kind, compassionate and very skilled physician. She was extremely helpful in dealing with my daughter and provided outstanding care." - K.W.
"Dr. Frye was great answering our questions and very sociable with my child. I was very pleased with the overall experience." - T.D.
"We came to Dr. Frye after 2 other physicians told us there was nothing wrong with our daughter's knee. She took the time to hear our story and concerns, make the diagnosis and coordinate a treatment plan. She is back to sports and doing great." - M.S.
"Dr. Frye is a wonderful, caring, thorough provider. She has been very attentive to our concerns during our appts, as well as, through answering messages. Thank you Dr. Frye!" - M.B.
"Dr. Frye and her office staff are awesome. We came for a second opinion after seeing another ortho doctor at [other facility]. She just seemed to "get it" - sat down, took time. It was the first time someone explained the problem to us and made sure we understood. Her assistant also helped us get the brace the same day. We are on the way to getting him back on the field." - C.N.
"So happy to finally have a pediatric ortho doctor in the area - we no longer need to travel an hour away to have our daughter taken care of by someone with specialized training in orthopedic issues strictly in kids." - L.F.
"Genesee county has been blessed to have Dr. Frye in the community. She is an excellent resource. Having access to her orthopedic services and her concussion management is invaluable." - M.R.
"She was awesome and very friendly. Excellent with my granddaughter." - I.G.
"She is a mom, a doctor, and a former athlete. She understands! Dr. Frye is a great fit - my daughter wishes she could be her regular pediatrician too - not just her sports doc!" - S.G.
Photos and comments used only with families' permission.