Our friendly, knowledgeable staff works hard to make your visits to our office as smooth as possible. We've provided helpful information about our office on this page, including directions and office hours.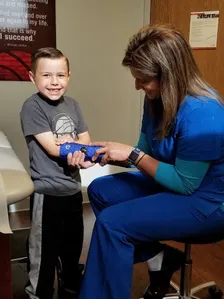 Helen DeVos Children's Hospital Pediatric Orthopedics
Lansing location: 3960 Patient Care Drive, Suite 113

Grand Blanc location: 8203 S. Saginaw Road, Suite A (inside Mid Michigan Sleep Center)
Phone: (517) 484-0004
Fax: (517) 913-8152
General HDVCH Orthopedics Line: (616) 267-2600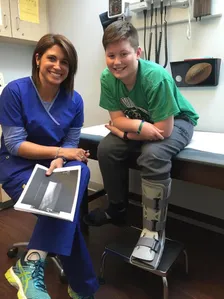 ---
As always, please make sure to bring previous imaging that you have had done (MRI, CT, x-rays) so that Dr. Frye can review these during your visit. We do not have access to imaging from every facility. Any related clinic notes are also appreciated. Help us to make your visit the best it can be & come prepared. If you prefer to drop information off ahead of time, that is absolutely fine. Thank you!
Office Hours
We have early office hours for the convenience of our patients. We are available for appointments before school and during the lunch hour to help minimize the stresses of missing time at school and work. Early office hours also allow us to meet and evaluate student-athletes early in the day so that they can return to school with recommendations prior to sports practices in the afternoon or competitions in the evening. Early office hours also help us to be able to arrange same-day advanced imaging (such as MRI, bone scan, CT scan) at our local medical center facilities and same-day evaluations and fitting for braces and assistive devices with local orthotists. We do our best to work in urgent conditions the same day if possible.
Our on-site digital x-ray suite adds to families' convenience and is available during all of our office hours, including extended hours.
Facilities & Equipment
To help us get answers quickly and efficiently, we have on-site radiology services in Lansing. For Grand Blanc, we are able to order x-rays to be done the same day at a nearby facility. Dr. Frye takes time to review all images with each family. She educates each patient and family on any findings and makes sure that all of your questions are answered so that you can feel comfortable and confident in the diagnosis and treatment plan. More-specialized laboratory tests and diagnostic imaging (such as MRI, CT scan, bone scan) are easily scheduled at local facilities.
Appointments
The easiest way to schedule an appointment is to call us directly at (517) 484-0004. We offer same-day evaluations of acute injuries and concerns.
Please arrive 10-15 minutes early for your appointment. We urge you to respect this request, as it helps our practice to continue seeing patients at their scheduled appointment times. If one patient is late, it can significantly impact the schedule for the remaining patients that day. We understand that the unexpected occurs and sometimes it is just "one of those days". So if you are running late, please give us a head's up at (517) 484-0004 and let us know when to expect you. If we can make an adjustment, we absolutely will do what we can.
Accepted Insurance Carriers
We are proud to accept a wide variety of insurance carriers. Please call and confirm your insurance information prior to your appointment if possible.